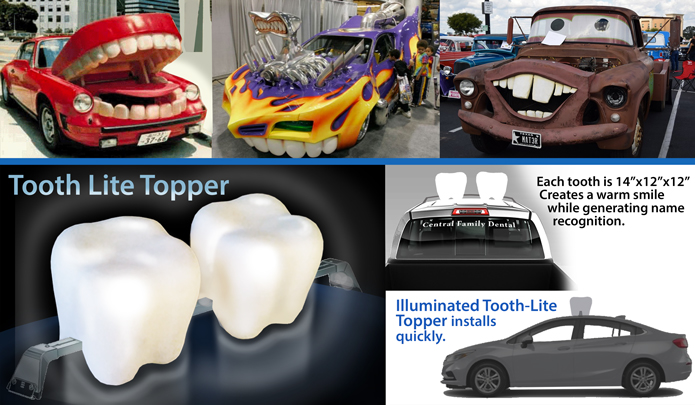 Relational Advertising Outside the Dental Office

By Jim Kraft
What is it worth to create a chuckle?
Humor is a joy to use in business. The practical side of humor can include tension relief, a natural ice-breaker and conversation starter, name awareness and a segue to new business.
A line that I used in a previous article applies nicely here: "Being better" is about shaking the dull out of our lives! I believe we all welcome an internal smile or chuckle, especially as we get ourselves wound-up with life's rushing about and anxieties.
Hats off to you as a dentist! The service you provide is so needed in a sugar crazed/glazed world. Once the dental work is completed–the one word that comes to mind, relief! As a marketer and communicator, your brand, your name interaction with the public is highly welcome.
The rush to on-line advertising puts to test other advertising vehicles. Questions include: is it unique, will it create goodwill, will my name be seen, will it cause a hand shake, a smile. These are advantages that most "on-line" advertising venues just can't muster.
Questions need to be asked: Is the idea unusual enough to catch an eye? Do you mind returning a compliment or engaging in conversation spontaneously? Do you have access to a creative person to bounce ideas off of or to implement the awesome? Spending time with an expert at the crossroads of creativity is time well spent.
I have been hired by many organizations to help them with their big ideas. American Greetings, GE, Carlton Cards, Holiday Inn, Honeywell, and BFGoodrich to name a few. Start-up brands include EZPOLE Flagpoles, Swiss-Tech Micro tools, and BrailleWorks. The issue is, what communication theme/project are you comfortable with, and at the same time, what can you have a little fun with?
Below are a few off-the-cuff ideas and inspiration starting points:
- Vehicle modification or customization. This can be a car, van, truck, motorcycle, bicycle, wagon, trailer, and if it has wheels or wheels can be mounted to it, you may have something to modify. Even if it doesn't have wheels such as a hot-air balloon or kite. Perhaps team up with a local dental group to create a sponsored event. E.g.: A tooth-shaped kite competition could be an unforgettable event. You never know where and when a great idea will emerge. Just be sure to let the local newspaper or TV station in on the event. Now you've just turned that investment into significant PR dollars.
- Always have good design. If something has creepy colors, design, or theme, it will not cast a positive impression.
- Get outside of the normal, it's what makes an idea attention worthy.
- Size: Think big or think super-size. If it's awareness on an amoeba, find a cute amoeba, and pass it on to creative.
- Make sure the idea is fun, up and positive.
- Clever: Attention getting, but above all, the idea communicates.
Humor provides a way to laugh at ourselves and our circumstances. And who wouldn't agree that the world can always use a little more good humor. Humor and creativity can easily go hand-in-hand.
If you have any ideas to contribute for future articles, feel free to connect. If you need some input on a project, please let me know.
email:

Jim

1-888-572-3899

© 1999-2019 CRS Light